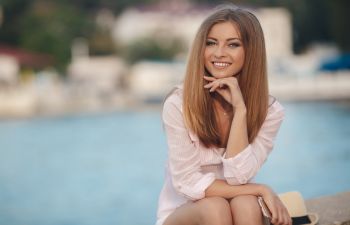 There's something about ringing in a New Year that makes everyone want to reinvent themselves a little bit. After all, what are New Year's resolutions if not promises to change aspects of ourselves to better suit an idealized self-image?
The truth is, marking a New Year is also letting the last one fade into the past, and time is finite. Life is not a dress rehearsal, so why not live it to the fullest by changing up your style completely without committing to drastic changes? With a curated collection of high-end wigs, you can do just that with ease.
Why High-End Wigs are a Good Investment for the Adventurous Fashion Lover
Some people rely on medical wigs and cranial prostheses due to medical conditions that impact hair growth, and some people cover their natural hair for religious or cultural reasons. Other people invest in high-end human or synthetic wigs just because they like the ability to change their style on a whim. Feeling like a short, blonde bob on Monday and waist-length curls on Saturday night? High-quality wigs allow you to turn every outfit into an entire aesthetic in minutes, all while retaining a totally natural look.
If your only experience with wigs is the kind you find in a pop-up Halloween store, it's understandable to think there's no way to make them look natural. The truth is, the difference between low-quality wigs and higher-end options is quite astounding. With the right wig of the right quality, the only real giveaway is the impossibility of growing several inches of hair in a totally different color overnight. Whether you have a medical need for a wig and would like to be able to rock a different look every day, or you just want to have a hairstyle for every outfit, quality makes all the difference.
How to Choose the Right Wigs for Your Collection
You're all set to shake it up, ready to buy the first wig in your collection. Now what? There are so many different options out there, and things like proper wig cap fit are vital. It's also important to know that human hair wigs can be styled any way you like, so one wig can be quite versatile on its own. Curl them, straighten them and even style them in updos. Not sure you love the color? A professional can color your wig just like they can color hair growing from someone's head. These are things to keep in mind, especially if you're just starting a collection and want as much variety as possible but don't have an unlimited budget.
It's also important to remember that some styles can be less flattering for certain face shapes, and some colors aren't the ideal match for all skin tones. When it comes to options, you're only limited by your imagination and it can be tempting to invest in something drastically different from your normal style. You should play with colors, lengths and styles if you're adventurous and fashionable, but you should stick with the ones you know play well with your face shape and skin tone.
Having your first wig custom-made is the gold standard, allowing you to dial in your options to your exact specifications and ensuring a perfect fit. Because fit is such a vital part of making a wig comfortable to wear and natural looking, it is also something you should take very seriously. If you're ordering online, it's crucial to measure for your cap properly.
If you're in the New York City area, Shuly Wigs provides in-person consultations to help you every step of the way when choosing your new wig. Traveling to NYC not feasible? No problem; experts in wig creation, aftercare and styling are standing by to help you find the perfect fit, even from a distance. Call or contact Shuly Wigs today, and start your wig collection off in immaculate quality and style.
Posted on behalf of Shuly Wigs
4016 18th Ave
Brooklyn, NY 11218
Phone: (718) 851-7778
FAX: (718) 851-7090
Email: info@shulywigs.com
Monday-Thursday: 10:00AM - 5:00PM
Friday-Sunday: Closed
We're closed on major Jewish holidays, except Chanukah (Festival of Lights).