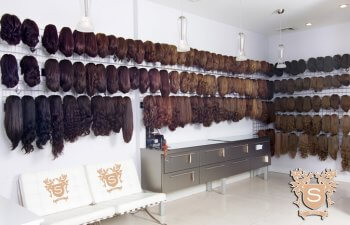 Whether you're looking for fun ways to switch it up with your hairstyles this summer or you're in need of a wig due to hair loss, you know it can be challenging to find the perfect wig. There are so many things to consider when choosing; and when you're investing in a high-quality wig, you want to know you're making a great purchasing decision. It isn't always easy to know what you need, especially if your situation is a unique one. Sometimes, a private consultation is the best way to ensure you're making an informed decision.
Why it Can Be Complicated to Choose the Perfect Wig
At first blush, choosing a wig seems simple. You just pick out your fantasy hairdo, put it on and walk out the door, right? Actually, it's not quite that straightforward. There are many things you should consider, from the right wig cap to the construction of your high-end wig, the type of hair used and the fit of the wig itself. With so many moving parts at play, sometimes it's easier and more reassuring to work with trained professionals every step of the way.
Buying a wig for the first time can be a great opportunity to go all out with new styles and colors, but not all styles complement every face shape and not all colors are a great match with every skin tone. Simply choosing the right cut and color can be overwhelming, and that's before you ever stop to consider the different kinds of wigs on the market. It also can be somewhat challenging for some customers to measure their heads properly to determine an accurate wig cap size. Getting your cap size right is essential, as it will impact how your wig fits your head.
It's also not always easy to know what type of wig you want, either. For most customers, a full lace or lace front wig are the best options, as they provide the most natural look and comfortable fit. Because they are lighter and allow the scalp to breathe, lace front and full lace wigs can be worn comfortably for many hours of continuous daily wear long term.
Customizing the Perfect Wig with Styling and Repair
In-person consultations aren't just the best way to ensure you're satisfied with the color, cut, construction and type of wig you ultimately purchase. When you choose the right purveyor of high-quality wigs, you also have the added benefit of access to wig styling and repair services over the life of your new wig. This allows you to get more wear from a wig with a great fit, and more mileage out of your initial investment.
For customers in the New York City area, Shuly Wigs is the one-stop shop for all things related to high-quality wigs. Expert staff provides one-on-one consultation services to ensure you are absolutely thrilled with the look, feel and construction of your new wig. When you want to change things up a bit, salon services range from cutting and coloring to special occasion updos.
Ready to take control over the appearance of your hair, whatever the reason behind that need? Shuly Wigs is the premier destination for superb quality human-hair wigs, conveniently located in the heart of Brooklyn. From in-person consultations to help you find the perfect wig to styling, repairs and everything in between, Shuly Wigs has you covered literally and figuratively. For more information, call or contact Shuly Wigs today; take your first step on a rewarding journey to more confidence and show-stopping hair.
Posted on behalf of Shuly Wigs
4016 18th Ave
Brooklyn, NY 11218
Phone: (718) 851-7778
FAX: (718) 851-7090
Email: info@shulywigs.com
Monday-Thursday: 10:00AM - 5:00PM
Friday-Sunday: Closed
We're closed on major Jewish holidays, except Chanukah (Festival of Lights).