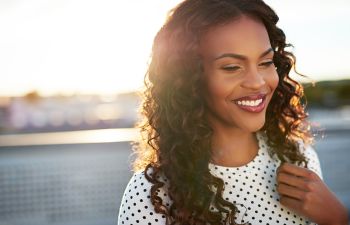 Soaring temperatures can leave your head hot and steamy if you are wearing a wig. On the other hand, if you are wearing the right Shuly Wig, you will be keeping a cool head despite the sizzling summer heat. We have tips to help you stay cool while looking fabulous.
It's All in the Wig Cap
Choosing the best wig cap for the season is your first move when it comes to staying cool in the summer heat. Wig caps are not created equally. Our stylists at Shuly Wigs can help you choose the best wig cap to keep the air flowing around your scalp. If you are not familiar with the various types, you could end up losing your cool, which could lead to more uncomfortable problems.
There are four basic types of wig caps. They include:
Basic, also known as capless
Lace front
Hand-tied
Monofilament
For summer wear, or when you visit warmer climes, the capless or basic type will be the most comfortable. If your scalp heats up considerably when you wear your wig in the summer, you may have a monofilament wig cap, which is the warmest of the four types.
Let the Air Flow In
The basic wig cap is very thin. This allows for easy air circulation so your scalp can breathe. The design of these wig caps permits airflow in the spaces between the wefts of the cap. Hair strands are woven together to form the weft. The weft is then sewn onto a thin elastic material. A technique called "permatease" allows you to style the wig in such a way so the wefts will be hidden.
Being able to style your wig any way you desire and have it still be comfortable to wear in warmer temperatures is important. Looking good and feel miserable because your head is too hot under your wig can and should be avoided. It is very hard to look good when you feel miserable. A basic wig cap is less likely to trap heat and cause problems on those hot days.
A sweaty scalp will cause the base of your wig to become damp and soggy. This could cause your scalp to itch. As oils build up, your scalp becomes more susceptible to breaking out. This is particularly true for individuals with sensitive skin. An oily scalp is not good for your wig either. Oil buildup on the wig makes it heavier and can cause damage to both the cap itself and the hair.
Additional Help
Choosing the best wig cap is the first step in keeping your head cool. There are other steps you can take to minimize a hot head as well. Headbands for wigs and no-sweat wig liners can help.
A no-sweat wig liner is a thin, ventilated liner that helps to reduce heat. Some have moisture transport systems in their design that help keep your head dry. They wick away the sweat and oils so your scalp and your wig are protected. Plus, they keep your wig from slipping. You can get disposable wig liners for added convenience.
Color and style can also help keep your head cool. If you have a dark wig, consider wearing a light shade during the summer months. Lighter colors reflect the heat, where darker colors absorb it. A lighter color wig can make for a cooler head while sparking up your appearance at the same time.
Changing your style to a shorter, sportier do if you wear longer styles can make a big difference in the heat factor. Choosing a swept-up look to keep the hair off the back of your neck will also help you feel cooler when the temperature soars.
Let Shuly Wigs Help Keep You Cool
You can make summer wig wearing as easy as can be when you schedule an appointment with one of our professional stylists. We help with all aspects of choosing the perfect wig so you can feel confident, look exceptional and be comfortable. Call us today and get ready to spend the rest of your summer looking fabulous and feeling very cool!
Posted on behalf of Shuly Wigs
4016 18th Ave
Brooklyn, NY 11218
Phone: (718) 851-7778
FAX: (718) 851-7090
Email: info@shulywigs.com
Monday-Thursday: 10:00AM - 5:00PM
Friday-Sunday: Closed
We're closed on major Jewish holidays, except Chanukah (Festival of Lights).