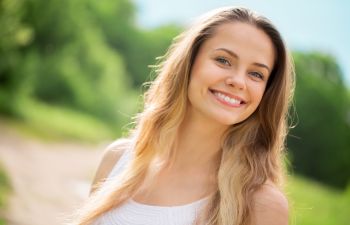 Summer is fast approaching and with it comes soaring temperatures. Wearing a wig when the weather gets hot can be uncomfortable unless you know how to keep your head cool. We have some tips that may help you do just that so you can maintain your style without sweating it!
Perils of a Hot Wig
Everyone has a point at which the heat begins to get to them. For some people it is at a lower temperature than others. No matter what your threshold is, when you reach it, you may start feeling miserable underneath your wig.
When your scalp begins to sweat, the dampness may go into the base of your wig. The next thing you know, you have a hot, damp scalp and a soggy wig. If you are extra unlucky, your scalp may begin to itch on top of it. The heat can also cause oils to build up. This can cause your scalp to break out, especially if you have sensitive skin.
Excess oil buildup is not good for your scalp or your wig. When you have sweat and oil accumulating, your wig gets heavier and more uncomfortable. These conditions can lead to damage of your wig cap and the hair of your wig. Fortunately, there are steps you can take to prevent these issues.
Choose the Right Wig Cap
The first step in staying cool while wearing a wig in the summer heat is to choose the right wig cap. Some wig caps are heavier and thicker than others. There are four main types of wig caps:
Capless or basic
Lace front
Hand-tied
Monofilament
Of the four, the monofilament wig cap is the warmest and the capless or basic wig cap is the coolest. This type of wig cap is machine-made and the hair strands are woven together in a weft. The weft is sewn onto a thin, elastic material and hidden by a technique called "permatease." This keeps the weft from showing in a part.
The basic wig cap is very thin, so it allows your scalp to breathe. Air can flow between the wefts since there is space. This type of wig cap is the best for keeping your head cool in summer heat.
Accessories for Comfortable Wear
In addition to choosing the best wig cap, you may want to consider wearing a light wig cap or a wig headband. Look for a breathable wig cap. The wig cap prevents your wig from slipping, maintains your natural hair securely in place and it keeps stray hairs from poking out when you are wearing your wig. They come in a variety of colors to match your wig.
If you have sensitive skin, a wig cap may not be your best option. A wig grip or wig headband may be the better choice. It will keep your wig in place without covering your entire head. Our stylists at Shuly Wigs can help you decide which option will be best for you.
Summer Styles
You may want to consider wearing a style and color that will help you stay cool during those hot days. Shorter styles can look very chic while keeping you cool. Allow yourself to experiment with different lengths. Short bobs are always fashionable. Textured pixie cuts are also perfect for summer fun and since there is no hair on your neck, you can stay cooler.
Lighter colors are also cooler. Dark hair absorbs the heat while lighter colors tend to reflect it away from your head. Changing your hair color for summer can be fun as well as sensible.
With the right wig cap, style and color, you can stay looking beautiful in your wig and keep cool at the same time. For ideas and advice, talk to one of our knowledgeable stylists at Shuly Wigs. Make that call today.
Posted on behalf of Shuly Wigs
4016 18th Ave
Brooklyn, NY 11218
Phone: (718) 851-7778
FAX: (718) 851-7090
Email: info@shulywigs.com
Monday-Thursday: 10:00AM - 5:00PM
Friday-Sunday: Closed
We're closed on major Jewish holidays, except Chanukah (Festival of Lights).