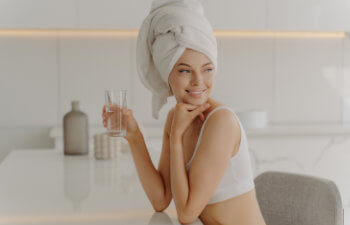 High-end wigs give you the flexibility to experiment with a wide variety of hairstyles, whether you're covering natural hair for low-maintenance styling or wearing a wig due to hair loss. Being able to change it up at a moment's notice is great, but it's essential to remember to care for your scalp while wearing wigs, especially if you're already working to reverse hair loss.
Why Scalp Care is So Important for Wig Wearers
Wearing a wig can sometimes cause irritation to your scalp on its own, especially if the fit isn't quite right or you're not investing time and energy into proper scalp care. While a wig provides some UV protection for your scalp with the right wig cap, on warm days it's natural for your scalp to sweat under the wig and cap.
Hair grows from individual follicles on the scalp, which also produce an oily substance called sebum; this is the same substance that makes your face feel greasy from time to time. Whether follicles produce hair or not, they still produce sebum. Over time, sebum can interfere with hair growth, something that's particularly important for people wearing wigs due to reversible hair loss. You want to protect your natural hair as it recovers, and scalp care is an integral part of that process.
When your high-end wig fits properly and is constructed well, good airflow is part of the design and will help to minimize sweating or overheating. Most issues with discomfort some people can experience while wearing a wig are also minimized with a higher-quality product, but not if your scalp is irritated and inflamed.
Scalp Care Basics for a New Wig
Whether you're getting your very first high-end wig or your fiftieth, you'll still want to make sure you're keeping scalp care in mind every time you invest in a new wig.
Keep Your Scalp Clean and Hydrated – The skin of your scalp needs the same careful treatment you extend to the skin on your face and the rest of your body. Cleansing your scalp and any natural hair with shampoo or a specialized scalp cleanser is ideal. Don't forget hydrating products like moisturizer or skin-safe oils, as dryness can cause itchiness and discomfort with or without a wig.
Treat Yourself to a Mini Spa Day – While you never need a reason to invest in self-care, you also don't have to go to the spa to treat your scalp to a great massage. You can easily do it yourself, as scalp massage stimulates blood flow to promote new growth while reducing stress on the skin and irritation.
Be Picky About Wig Selection and Wig Care – The quality of your wig itself plays a significant role in scalp health. A high-quality wig made with precision and skill can itself be a scalp protecting device; a poorly made wig, on the other hand, can actively damage your scalp. Once you've invested in a high-end wig, be sure to keep it as clean as possible. The same sebum, skin cells and sweat that can clog follicles on your scalp can also build up inside your wig without proper cleaning. Environmental contaminants can also be a factor, like smoke, dirt and air pollution.
How the Right Wig Can Improve Scalp Health
Wigs are often worn as protective styles while natural hair regrows, which means you want your wig to be beautiful, look natural and also help you protect your scalp. The experts at Shuly Wigs can help you find the perfect wig to help you rock any look with confidence while helping to keep the skin and hair underneath in the best possible condition. If you're ready to learn more about how the right wig can boost your confidence, your comfort and your scalp health, call or contact Shuly Wigs today!
Posted on behalf of Shuly Wigs
4016 18th Ave
Brooklyn, NY 11218
Phone: (718) 851-7778
FAX: (718) 851-7090
Email: info@shulywigs.com
Monday-Thursday: 10:00AM - 5:00PM
Friday-Sunday: Closed
We're closed on major Jewish holidays, except Chanukah (Festival of Lights).