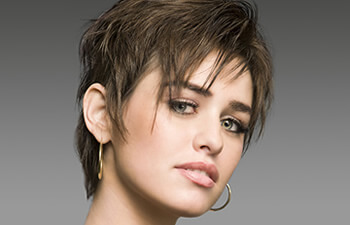 You have to love the convenience of wearing a wig. The beauty, style and convenience of a well-coiffed wig allows you to look amazing at a moment's notice, no matter what state your natural hair may be in. You may be interested in learning a few interesting facts about the history of wigs.
From ancient times, wigs have had a place in human history for protection, for fashion and for making a statement. Did you realize that those iconic Egyptian hairstyles may have actually been wigs? Did you know the term "bigwig" came from the French? Also, what's up with the powdered wigs used in European courts?
A Matter of Class
You have seen the pictures of ancient Egyptians and their locks, but what you may not know is that men and women of the upper class often shaved their heads because of the heat. In order to protect their heads from the sun, they would wear wigs. These wigs were an expression of who they were and defined their style, reputation and class.
Ancient Egyptian wigs were very diverse. Today, we have human hair and synthetic hair wigs. Back then, wigs were made from human hair, wool or even palm tree fibers. The strands were kept in place by mixing them with beeswax.
Then There's the Bigwigs
This term is normally used to connote the people in charge, or those who have the money and power to get things done. It comes from the large wigs worn by the upper-class French. One had to be wealthy in order to maintain the huge ornate wigs. These were often adorned with ornaments. It is said that a large ship ornament adorned one of Marie Antionette's wigs.
Pest Control
Movies about the 18th century often feature men in wigs. In fact, more men than women wore them back in the day and they were often powdered. Why? The powdered wig was worn to get rid of head lice! Originally the trend was to protect the hair and the little pests would settle in the fake hair instead of an individual's natural hair. Soon it became a fashion statement as well as a method of personal pest control.
And there you have it; three interesting things you may not have known about early wigs. You can make your fashion statement with a beautifully styled wig from Shuly Wigs. Contact us today to schedule an appointment with one of our stylists.
Posted on behalf of Shuly Wigs
4016 18th Ave
Brooklyn, NY 11218
Phone: (718) 851-7778
FAX: (718) 851-7090
Email: info@shulywigs.com
Monday-Thursday: 10:00AM - 5:00PM
Friday-Sunday: Closed
We're closed on major Jewish holidays, except Chanukah (Festival of Lights).