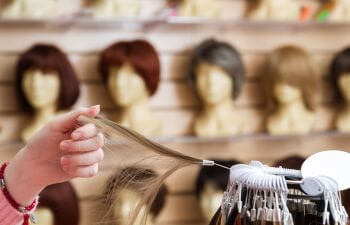 You know Shuly Wigs for our high-quality, beautiful human hair wigs. Our customers keep returning because they trust us for dependable quality that's a cut above the rest. So, whether you choose to wear a wig for variety and fun or wear one due to hair loss, we know you want to look for the very best, and we provide that for you.
However, did you know that Shuly Wigs does much more than sell the perfect human hair wig for any desire? That's right. We offer a variety of wig-related services that you may not expect. You'll soon see why human hair wigs are versatile enough to suit any need. First, let's look at a few of these options.
Want Your Color Perfect? We Can Do That
Color is just as important as style when you choose a wig. Many women want to match their natural color, while others want a subtle or dramatic change. At Shuly, we provide that service for our human hair wigs.
One of the advantages of human hair wigs over synthetic wigs is the ability to color them. You can work with us to create a custom color, ombre effects, dark roots, highlights and lowlights or to restore and refresh the color of your human hair wig. Whatever you want, Shuly human hair wigs can shine with your favorite color enhancements.
Does Your Wig Need Repair? We Can Do That
Although Shuly's human hair wigs are of the highest quality, they occasionally need repair. Fortunately, we can take care of them right here in our salon. For example, problems often come with the cap of your wig. We can make cap adjustments, including repairing tears. In addition, we can adjust the nape for a perfect, customized fit.
We can also make repairs to the actual hair of your human hair wig. We can add or remove wefts and adjust the style by adding or removing hair. For example, we can add or replace the bangs of your human hair wig or add hair to bald spots. We can add a lace front or even convert a full wig to a hat or band fall.
We have experts on staff to do professional repairs. However, if the necessary repair is complex, we will send it out to the manufacturer's technicians.
Do You Need Your Human Hair Wig Styled? We Can Do That
Did you know that human hair wigs can be styled just like, well, human hair? We have several salon services for your wig to maintain and change its beauty. From conditioning treatments to cuts and recuts to updos, styling and even perms, you can change the look of your human hair wig with style and keep it soft, smooth and silky with professional conditioning treatments.
Do You Need a Place for Your Bridal Party to Get Makeup and Styling?
Is your big day coming? For many women (and men), their wedding day is one day they've looked forward to since childhood and will be remembered for a lifetime. But the preparation and planning can create incredible stress.
It's easy to make sure you and your bridal party look fabulous on this big day. Book your hair and makeup with Shuly Wigs. We are experts in human hair wigs, which means we know how to style your hair to look its very best.
We also have makeup professionals who know how to take your colors and incorporate them into a polished, professional look that leaves all of you ready to shine through the ceremony and for the pictures. Although human hair wigs are our passion, there is something special about helping brides and their bridal party look stunning for their big days.
Do You Want to Try a New Style Before You Buy? We Can Even Do That
We saved this one for last because we think it's unique. At Shuly's Wigs, you can actually rent a human hair wig. So, if you've wanted to try out a fresh look before you invest in a human hair wig of your own, we offer this option.
We realize the investment in a human hair wig is significant, so if you're unsure, this is a terrific way to see how you like it. With our wig rentals, you can see how you like the feel of a human hair wig. Test out a style, a color or a lace front – whatever you wonder about. Try it, wear it for a bit and see what you think. Then, if you want to try another one, you can do that. So, this program is perfect for you whether you're curious, have a special event or just want to find out how it feels to wear a wig.
Contact Shuly Wigs today to learn more about our human hair wig services. You'll be glad you did.
Posted on behalf of Shuly Wigs
4016 18th Ave
Brooklyn, NY 11218
Phone: (718) 851-7778
FAX: (718) 851-7090
Email: info@shulywigs.com
Monday-Thursday: 10:00AM - 5:00PM
Friday-Sunday: Closed
We're closed on major Jewish holidays, except Chanukah (Festival of Lights).