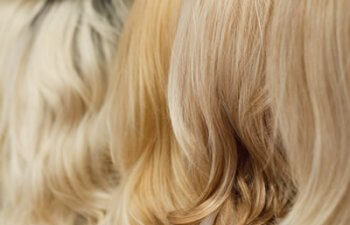 When shopping for the perfect wig, you may think the color and length are the only boxes you need to check to find the perfect fit. But wig density plays a huge part in how your wig is going to fit and how it will look on your head. Let's go over what wig density is and why it's important.
Wig Density Defined
Wig density is the measurement of how full or voluminous a wig appears while being worn. Wig density will change the look of your wig and how it lays on your head. The less density, the thinner the wig. High-density wigs give a large and voluminous look, giving a more overall fullness to the wig. This is why considering wig density when choosing a wig is so important.
Density Percentages
Wig density is measured in percentages. Understanding the different percentages and what they mean will help you when shopping for your next wig. Here is a quick reference guide of what these percentages mean:
60-100% Density: This is usually the lowest available density. Provides a flatter and/or thinner-looking wig for those who aren't wanting as much volume.
110-130% Density: This is a very middle-ground level of density. Most standard wigs you see in stores and online are at this medium density.
140-150% Density: This range of density is going to provide just a hair (no pun intended) more fullness for your wig. Just slightly more voluminous than the average wig. It is good for people wanting more volume but nothing too extreme.
180% Density: This percentage adds a good amount of thickness and volume to your wig. It has a noticeable fullness in comparison to the average 130% density you find with the average wigs in most beauty shops.
200% Density: 200% is high on the scale of fullness and volume. This is the second most voluminous wig you can purchase.
250% Density: This is the highest level of wig you can purchase from most shops. This is the max volume and fullness. Compare this volume to the more high-scale wigs seen in drag or on celebrities. These max volume wigs will be more expensive but are worth it for the volume-seeking customers.
Short Hair Wigs
For short hair wigs specifically, we would suggest a mid-range density wig. Somewhere between the 130-150% range. For short wigs, you have to be especially cautious of the density you choose because they can more easily look bulky or flat.
Long Hair Wigs
With longer wigs, you have a little more freedom to choose the density without worrying about any major bulkiness. It's more about your personal preference for body and fullness. Even for long wigs, it is important to understand the different density levels so you can buy the wig that fits the look you are trying to achieve. Sometimes a long wig can look flat if it's within the 100-130% scale, so we suggest a higher density for a long wig.
Find The Density That Is Right for You
In reality, there is no wrong answer when it comes to wig density. All densities offer different appeals for different needs. But understanding the chart and using it while wig shopping should help you find the perfect wig for any occasion. We hope this article helps you better understand wig density and makes shopping for your next purchase a much more enjoyable experience.
Shuly Wigs offers many options for wigs. Contact us today and we can help you find the correct length and density for your next purchase and answer any other questions you may have.
Posted on behalf of Shuly Wigs
4016 18th Ave
Brooklyn, NY 11218
Phone: (718) 851-7778
FAX: (718) 851-7090
Email: info@shulywigs.com
Monday-Thursday: 10:00AM - 5:00PM
Friday-Sunday: Closed
We're closed on major Jewish holidays, except Chanukah (Festival of Lights).