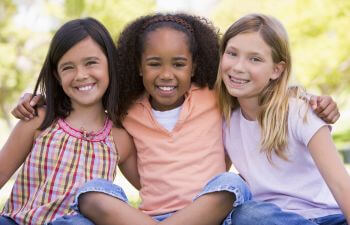 Though adult wear is likely what you associate with the term "high-end wig," the truth is there are children as young as six who routinely wear wigs and cranial prostheses.
Hair loss can be a devastating experience for people of any gender or any age, but it's often particularly difficult for kids, tweens and teens. The majority of children and teens who wear wigs don't do so for sartorial reasons, they do so because they've experienced a medical condition that led to hair loss.
The first thing many well-meaning adult bystanders do when they see a child with hair loss is ask if they're fighting cancer. While it's no secret that many cancer treatments and therapies can lead to hair loss, there is also a wide range of medical conditions that can cause hair loss. Autoimmune disorders like alopecia areata can cause large patches of hair loss, while traction alopecia can do the same as a result of prolonged use of tight hairstyles. No matter the reason, hair loss is uncomfortable for kids to discuss.
How You Introduce Wigs to Children Matters
Introducing a wig can put a stop to those prying questions, but a great wig does so much more than that for a child who needs one. During a time of figuring out their place in the world and the image they'd like to project, they're also facing a devastating loss that can dramatically affect how they feel about their looks and body. Still, it's vital to introduce the idea of wearing a wig in a manner that makes them feel comfortable. For many kids, that's a style and color as close as possible to their own. For others, a new look can add a bit of excitement to an overall somber situation.
Once the idea of wearing a wig has been accepted, it's time to start looking for the perfect fit. Wigs have the reputation of being hot and itchy, two things kids are notorious for rejecting outright. That's one of the reasons why wig and cap quality matters so much; it must feel comfortable and look natural, which means lightweight with scalp protection from the sun.
Keep in mind that your child will be the one wearing this wig, and they are the one that must feel confident and comfortable wearing it. It's vital that your child have a sense of agency over their body, especially at a time when they may be worried about its health and wellness. Get your child involved in the selection process by letting them choose the color, length or style they'd feel most comfortable wearing.
Helping Your Child Get Accustomed to Wigs for Kids
If there is some hair remaining on the scalp, you want to protect that hair as much as possible. Remaining hair can be braided loosely to fit under the wig smoothly, but a wig cap provides an extra layer of protection against irritating the scalp and potentially causing further damage to existing hair.
Wig care is different than caring for hair on your head, but human hair wigs can be washed, dried and styled like any other hair. With time to adjust and help from a trusted adult, wigs for kids can be a real game-changer in terms of self-image and confidence.
When children need wigs, it's important to be sure the quality is as high as possible. For kids with medical conditions, a cranial prosthesis wig may even be covered by your health insurance plan.
Shuly Wigs provides some of the most natural looking, high-quality wigs in the NYC area for adults and children, both boys' and girls' styles. If your child needs a wig, let the experts at Shuly Wigs help you find the perfect fit.
Posted on behalf of Shuly Wigs
4016 18th Ave
Brooklyn, NY 11218
Phone: (718) 851-7778
FAX: (718) 851-7090
Email: info@shulywigs.com
Monday-Thursday: 10:00AM - 5:00PM
Friday-Sunday: Closed
We're closed on major Jewish holidays, except Chanukah (Festival of Lights).